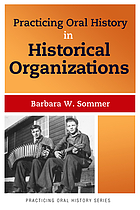 It has been half a century since the last book that addressed how historical societies can utilize oral history. In this brief, practical guide, internationally known oral historian Barbara W. Sommer applies the best practices of contemporary oral historians to the projects that historical organizations of all sizes and sorts might develop. The book -covers project personnel options, funding options, legal and ethical issues, interviewing techniques, and cataloging guidelines;-identifies helpful steps for historical societies when developing and doing oral history projects;-includes a dozen model case studies;-provides additional resources, templates, forms, and bibliography for the reader.
Review by Troy Reeves in The Public Historian'
I have a love/hate relationship with ''how-to'' oral history books. I generally
approach them hoping to find something different from all the other similar tracts
out there. But I also dread that I will not find anything that I could not or did not
read elsewhere. I am happy to report that I finished BarbaraW. Sommer's Practicing
Oral History in Historical Organizations with far more admiration than admonition.
Sommer divides Practicing Oral History into four parts, as well as the introduction.
One of the book's highlights occurs in part 4, ''Reflections and Resources,'' in
which Sommer offers four appendices with forms or templates that historical
organizations can replicate. Some of these forms have URLs, providing access to
a downloadable template at Left Coast Press's website. Although writers of other
oral history how-to books offer similar appendices, only Left Coast Press books—at
least some in their Practicing Oral History series—allow readers to download
forms, making reproduction far easier. Also, the depth and breadth of forms will
give as much grist to the would-be oral history project's mill as needed. For these
two reasons alone, I highly recommend this work.
But Sommer offers other material to praise. Part 3, ''Oral History: Step by Step,''
won my personal prize for best section (I'm writing this during Hollywood's
award season). The three chapters within it build upon each other—as well as
the previous two parts—to give those working or volunteering with any type of
historical organization a road map to take oral history from initial idea to finished
product.
Another of the book's highlights comes from Sommer's use of vignettes, quotes,
and sidebars from her colleagues throughout the oral history world (or, at least
North America). Someone new to oral history gets not only the benefit of Sommer's
wisdom but anecdotes from numerous oral historians in historical organizations
around the country. And a savvy reader of Practicing Oral History can use these
excerpts to create a list of practitioners to contact for additional advice and support.
In addition, Sommer makes and reiterates many key points about the art and
science of oral history. First, an organization—the Oral History Association—exists
to assist readers by providing a Best Practices and General Principles document,
among other things. Throughout the book, Sommer tackles the importance of
quality audio (or audio/video) and the need for a thoughtful approach when dealing
with communities dissimilar to one's own—for example, in the case of white oral
historians leading projects on an Indian reservation. Although some might see her
repetition on these topics as overkill, I see it as reiterating key points to make sure
anyone perusing the work understands their importance.
Although Practicing Oral History should sit on any historical organization's
bookshelf, I have some minor quibbles. First, there are parts of this book that
appear in other oral history books, either written or co-written by Sommer or
published by Left Coast Press. So, those who have read many of Sommer's or
LCP's books will feel a bit of de´ ja` vu. Also, the part of the introduction that charts
the history of historical organizations seems more like filler than meat. I know it
borders on anathema to say it, but in a how-to oral history book, a section on
history is not necessary. Overall, this book excels at giving practical advice and
forms to staff and volunteers at historical organizations embarking on (or returning
to) an oral history project. Readers could get the history lesson elsewhere.
These minor objections aside, Practicing Oral History succeeds admirably. It
gives those interested in doing oral history at any type of historical organization
a primer. On top of that, it provides readers an introduction to one of oral history's
most beloved practitioners and some of her valued colleagues. It can furnish one
then with a community to join, not just a book to read.
– Troy Reeves, University Wisconsin-Madison
The Public Historian, University of California, Santa Barbara. Graduate Program in Public Historical Studies.; National Council on Public History (U.S.); Society for History in the Federal Government (U.S.) : Reeves, Troy
Article Title: Review: Practicing Oral History in Historical Organizations by Barbara W. Sommer
Description: v. : ill. ; 23 cm. Vol/Iss: Vol. 38, Issue 2 Date: 2016 Pages: 104-105.
Review by Sarah Schmitt,  Practicing Oral History in Historical Organizations. By Barbara W. Sommer. New York: Routledge, 2015. 213 pp. Softbound, $31.95.
In volume four of the Practicing Oral History Series, Barbara W. Sommer offers oral historians and others working with or within museums, historic sites, archives, and other organizations, a long-awaited update to Willa Baum's 1995 edition of Oral History for the Local Historical Society. Practicing Oral History in Historical Organizations is an accessible reference text organized into four parts: "Oral History and the Oral History Life Cycle," "Oral History for Public Audiences," "Oral History: Step by Step," and "Reflections and Resources"; it incorporates examples of project proposals, legal release agreements, and training resources, among other tools used by and gathered from historical organizations across the country.
This reference work is a versatile text that can equally serve both independent practitioners working with repositories and the organizations that collect, preserve, and interpret history for pubic audiences. Its organization is similar to that of the extensive Community Oral History Toolkit (Nancy MacKay, Mary Kay Quinlan, and Barbara W. Sommer [New York: Routledge, 2013]), and thus it could (in some circumstances) serve as a condensed version of that larger work, particularly for community-based projects that choose historic organizations as repositories. The content provides shared scaffolding and a basis for collegiality within this type of mutually beneficial partnership.
Sommer's outline format is particularly helpful for those who provide training and outreach from within historical institutions. The author recognizes this occasional role of trainer by emphasizing training as an important phase within the planning step of the oral history life cycle. The text itself, particularly "Oral History: Step by Step," provides a functional outline for developing oral history overviews and workshops for fellow staff, volunteers, and community members.
Practicing Oral History in Historical Organizations is also well suited to training applications because the author's style—in this as well as in her other solo and collaborative publications—is neither abstruse nor oversimplified. For example, copyright issues and legal concerns can be difficult to discuss and convey to volunteers, narrators, and researchers. Sommer's discussion of copyright and legal release agreements in the dedicated section and throughout the other chapters is practical, sober, and easily understood. It is worth bookmarking and highlighting for those difficult requests that place a nonlawyer in an awkward advisory position.
Another great strength of this text is Sommer's explanation and exemplification of oral histories as being unlike other museum and archival collections; the recordings are unique in that they are created to be preserved as a primary source. They are born historically important instead of achieving that status accidentally through the passage of time and donation. In this sense, Sommer's text has applications for large organizations establishing or revising their unified collections policies to account for the unique position of oral histories among artifacts, manuscripts, and other objects of historic importance. Furthermore, the section discussing preservation and access/use has applications for establishing or revising procedures for archiving oral histories in large GLAM (Galleries, Libraries, Archives and Museums) institutions that often attempt to treat all items in the same fashion for the sake of streamlined, consistent processes.
With that said, the preservation and access portions of the oral history interview life cycle discussions are ready for a second edition even in the short years since this book's publication in 2015. Only discussed briefly, the proliferation of long-term, cloud-based storage backing up NAS and other server storage has changed the expense and complexity of preserving uncompressed oral history interview files. Concurrently, the fast and ubiquitous adoption of the Oral History Metadata Synchronizer (OHMS) has had a significant impact on online accessibility and use. In short, oral histories now move more rapidly through the life cycle from idea to access, with some additional costs and ethical concerns in between.
Perhaps in an updated edition, I would also like to see more information about the myriad other ways historical organizations practice and use oral history beyond Sommer's project-centric model. In this book, the oral history project is placed at the center of the action, with all institutional parts working with a project leader toward its completion. Sommer acknowledges the other "rude mechanicals" of a historical institution but only in relation to potential team roles within the oral history project. No doubt this is the best practice and the most conscientious way to ensure excellence in collecting and maintaining good relationship with the community being researched. More often, however, in large institutions the primary project is an exhibit, publication, educational curriculum, or other public program, and collecting oral histories is a secondary or tertiary activity in creating the product. Sommer acknowledges multiple purposes for collecting, and the steps can be scaled, but Practicing Oral History in Historical Organizations could use more discussion of how we practice oral history ethically, responsibly, and effectively in less-than-ideal contexts where the practitioners and oral history interviews play smaller roles in big institutions.
I fully recognize that these three preservation, access, and workflow requests may just be the selfish, exclusive gripes of large historical organizations. There are many medium and small historic sites, local historical societies, and scope-specific archives that do not have these aforementioned concerns. This book is perfectly suited to their needs, and I would recommend it to any of those institutions who want to embark on oral history creation and curation, particularly to fill collections gaps, reach new audiences, and foster new constituencies. For example, Sommer wisely encourages smaller organizations who cannot achieve the best practices for preservation to consider partnering with repositories who can for the best model of practical stewardship.
As it is, Practicing Oral History in Historical Organizations sits on my desk instead of on my bookshelves. This is not just because the Kentucky Historical Society (KHS) and the Kentucky Oral History Commission (KOHC) are featured heavily among the examples and appendices; this inclusion predates my tenure at KHS/KOHC. The book has pride of place for me because it is a versatile quick reference with a useful glossary of terms. I loan the book to KOHC project grant applicants with collections bound for my repository—applicants who may struggle with addressing the full oral history life cycle within their proposal narrative. The book travels in the equipment bags loaned to historical organizations embarking on oral history projects. More importantly, for my state-funded institution, I keep it close at hand to reference the accessible arguments that advocate for the importance of creating, curating, and preserving interview collections within a historical organization.
Sarah Schmitt Kentucky Oral History Commission doi:10.1093/ohr/ohy083 Advance Access publication 17 December 2018. Oral History Review, 46:1, Winter/Spring 2019, pp. 254-256.
Reviews
"Practicing Oral History succeeds admirably. It gives those interested in doing oral history at any type of historical organization a primer. On top of that, it provides readers an introduction to one of oral history's most beloved practitioners and some of her valued colleagues. It can furnish one then with a community to join, not just a book to read."— Troy Reeves, University Wisconsin-Madison, The Public Historian
"Barbara Sommer's (2015) Practicing Oral History in Historical Organizations is a welcome addition to the field of qualitative research methodology. Generally the topics that public historians, ethnographers, and other practitioners of oral history probe are fragmented and lack human voice. Sommer's book speaks to practitioners who collect, archive, and use oral history."— Solaiman M. Fazel, Anthropology Book Forum
[/spoiler]