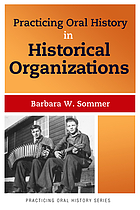 It has been half a century since the last book that addressed how historical societies can utilize oral history. In this brief, practical guide, internationally known oral historian Barbara W. Sommer applies the best practices of contemporary oral historians to the projects that historical organizations of all sizes and sorts might develop. The book -covers project personnel options, funding options, legal and ethical issues, interviewing techniques, and cataloging guidelines;-identifies helpful steps for historical societies when developing and doing oral history projects;-includes a dozen model case studies;-provides additional resources, templates, forms, and bibliography for the reader.
Review by Troy Reeves in The Public Historian
I have a love/hate relationship with ''how-to'' oral history books. I generally
approach them hoping to find something different from all the other similar tracts
out there. But I also dread that I will not find anything that I could not or did not
read elsewhere. I am happy to report that I finished BarbaraW. Sommer's Practicing
Oral History in Historical Organizations with far more admiration than admonition.
Sommer divides Practicing Oral History into four parts, as well as the introduction.
One of the book's highlights occurs in part 4, ''Reflections and Resources,'' in
which Sommer offers four appendices with forms or templates that historical
organizations can replicate. Some of these forms have URLs, providing access to
a downloadable template at Left Coast Press's website. Although writers of other
oral history how-to books offer similar appendices, only Left Coast Press books—at
least some in their Practicing Oral History series—allow readers to download
forms, making reproduction far easier. Also, the depth and breadth of forms will
give as much grist to the would-be oral history project's mill as needed. For these
two reasons alone, I highly recommend this work.
But Sommer offers other material to praise. Part 3, ''Oral History: Step by Step,''
won my personal prize for best section (I'm writing this during Hollywood's
award season). The three chapters within it build upon each other—as well as
the previous two parts—to give those working or volunteering with any type of
historical organization a road map to take oral history from initial idea to finished
product.
Another of the book's highlights comes from Sommer's use of vignettes, quotes,
and sidebars from her colleagues throughout the oral history world (or, at least
North America). Someone new to oral history gets not only the benefit of Sommer's
wisdom but anecdotes from numerous oral historians in historical organizations
around the country. And a savvy reader of Practicing Oral History can use these
excerpts to create a list of practitioners to contact for additional advice and support.
In addition, Sommer makes and reiterates many key points about the art and
science of oral history. First, an organization—the Oral History Association—exists
to assist readers by providing a Best Practices and General Principles document,
among other things. Throughout the book, Sommer tackles the importance of
quality audio (or audio/video) and the need for a thoughtful approach when dealing
with communities dissimilar to one's own—for example, in the case of white oral
historians leading projects on an Indian reservation. Although some might see her
repetition on these topics as overkill, I see it as reiterating key points to make sure
anyone perusing the work understands their importance.
Although Practicing Oral History should sit on any historical organization's
bookshelf, I have some minor quibbles. First, there are parts of this book that
appear in other oral history books, either written or co-written by Sommer or
published by Left Coast Press. So, those who have read many of Sommer's or
LCP's books will feel a bit of de´ ja` vu. Also, the part of the introduction that charts
the history of historical organizations seems more like filler than meat. I know it
borders on anathema to say it, but in a how-to oral history book, a section on
history is not necessary. Overall, this book excels at giving practical advice and
forms to staff and volunteers at historical organizations embarking on (or returning
to) an oral history project. Readers could get the history lesson elsewhere.
These minor objections aside, Practicing Oral History succeeds admirably. It
gives those interested in doing oral history at any type of historical organization
a primer. On top of that, it provides readers an introduction to one of oral history's
most beloved practitioners and some of her valued colleagues. It can furnish one
then with a community to join, not just a book to read.
– Troy Reeves, University Wisconsin-Madison
The Public Historian, University of California, Santa Barbara. Graduate Program in Public Historical Studies.; National Council on Public History (U.S.); Society for History in the Federal Government (U.S.) : Reeves, Troy
Article Title: Review: Practicing Oral History in Historical Organizations by Barbara W. Sommer
Description: v. : ill. ; 23 cm. Vol/Iss: Vol. 38, Issue 2 Date: 2016 Pages: 104-105
[collapse]